Metal Roof and
Wall Panel Systems
Architectural Metal Inc. (AMI) is authorized to install a wide variety of metal roofing and wall panel systems. In addition, AMI has extensive capabilities in custom design and manufacturing. We leverage our experience with an array of these different cladding systems and work with the design team, contractors and architects to find the best solution for each project. Examples that are regularly utilized on our projects – including manufacturers, roof systems, material, and color choices – can be seen at the following websites:
Amerclad
Americlad, LLC is proud to offer a broad array of architectural metal products.  The Americlad product line is an industry leader to the architectural construction and industrial markets.
Dri-Design
Dri-Design is a system that provides nearly endless design possibilities, with an unlimited palate of colors, finishes, materials, textures, and custom perforations.
Equitone
Equitone is a through-colored facade material designed by and for architects. Every Equitone panel is unique, showing the raw, untreated texture of the fibre cement base material.
Metal Sales Manufacturing
Metal roof and wall panel systems. Unique Color systems include Galvalume™, Mistique Plus™ and SupraTique™ aged galvalume.
AEP-SPAN
Metal roof and wall panel systems. Unique colors included Vintage™, Rustic™ and ZACtique II™ and Zincalume™.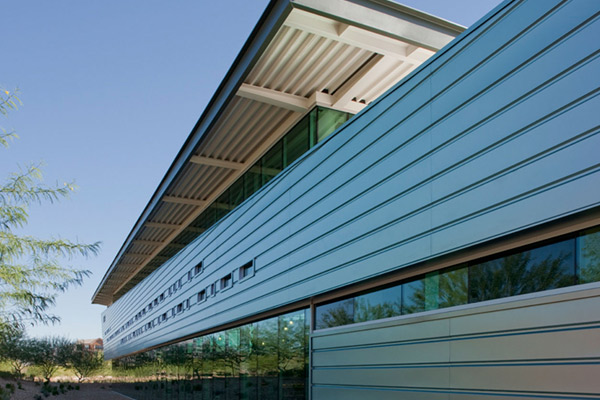 Firestone Metal Products
Metal roof and wall panel systems including composite aluminum wall cladding.
Rheinzink
Distinctive producer of natural zinc materials including Blue-Grey™ and Graphite™ pre-weathered finishes. A wide range of roof and wall panel options are available.
Vmzinc
Producer of natural zinc materials including Quartz™, Anthra™ and the Pigmento™ Series of colored zinc finish. Roof and wall panel systems include Standing-Seam ( DLSS ), Dexter™ and the Interlocking™ wall panel line.
Parklex
The Facade rain screen series is a high-density laminate timber panel. The outer layer is highly resistant and features a unique component, Everlook®, which provides longevity and color stability. The facade is a ventilated façade system.
Trespa
Trespa™ Meteon™ rain screen is a decorative high-pressure compact laminate (HPL) with an integral surface manufactured using Trespa's unique in-house technologies. The blend of wood-based fibers and thermosetting resins, manufactured under high pressures and temperatures yields a highly stable, dense panel with good strength-to-weight ratios.